Baines Drilling specialises in earth rod drilling and installation for the Perth power network. We are a Western Power accredited earthing contractor and a contractor to many other large organisations. If your project requires earth ground rod drilling and installation, our professional team can take care of your drilling needs. Contact Baines Drilling today and speak to our experienced earth stake drilling team on how we can help you meet your earthing requirements.
Baines Drilling have successfully developed a range of drill rigs specifically designed for the drilling and installation of earthing rods. Through broad field experience, our company understands that these rigs must have the ability to utilised in inaccessible locations and low headroom locations.
The specialist team at Baines Drilling have the equipment to install all components of the in-ground earth stake system to suit the client's requirements, with either copper or stainless steel earth rod options. We also provide full testing to ensure accurate readings provided by our in-house electrician. Our earth rod drilling and installation service are available for power stations, power poles, substations/transformers and building earthing.
We get in and out of your site quickly, are flexible with your time schedule and ensure that the site is left without damage and well looked after.
With over 40 years of valuable industry experience, we offer a versatile range of services to suit your needs. Get in touch with us today to discuss your project.
We offer a comprehensive range of quality earth stake installation and drilling services including:
Earthing Installations and Testing
Deep Earth Drilling to 150 metres
Earth Resistance Testing
Jack Hammer Driven Earth Rods
Fall of Potential Testing
Hard Rock Drilling
Down Hole Hammer (DHH)
Baines Drilling provides all services to high Australian standards, in even the most challenging ground conditions. Our team have a wealth of knowledge and experience to provide superior ground rod drilling and boring results for our clients.
Baines Drilling provides all services to high Australian standards, and no matter the ground conditions, our well-trained team can work through and provide superior drilling and boring services.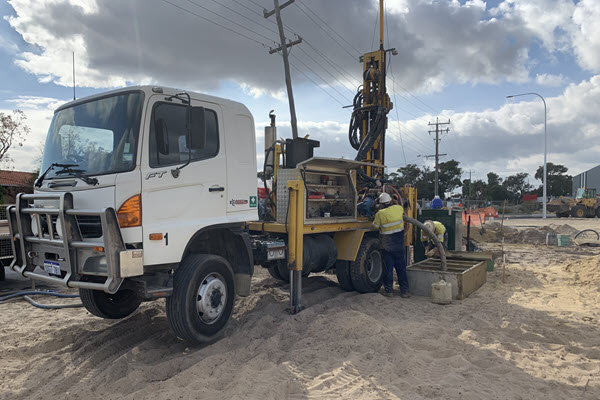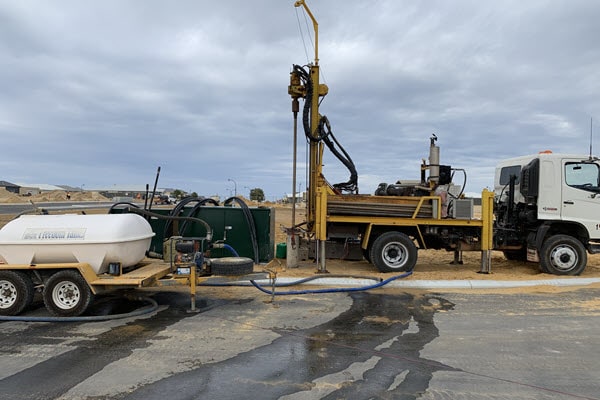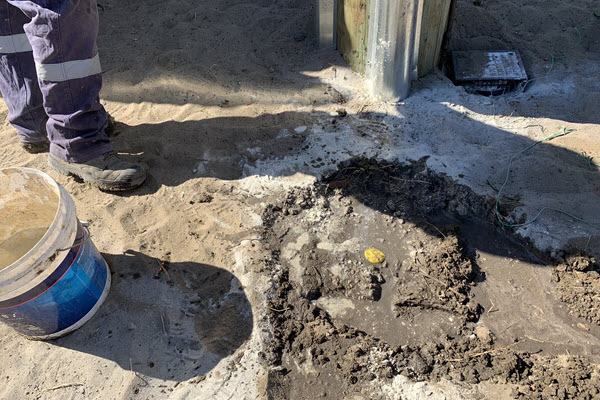 Our Specialist Earth Rod Installation Equipment
To ensure a professional installation of earth rods, Baines Drilling has specialist and well-maintained equipment to complete all drilling requirements. Following installation, the earth rods are inspected for accurate reading by our qualified electricians.
2012 Moorooka Mounted Drilling Rig,
2007 4×4 Hino Mounted Drilling Rig,
2014 4×4 Isuzu Mounted Drilling Rig,
1990 Mitsubishi Bogey Drive Mounted Drilling Rig
2009 Isuzu FXR1000 Support Truck, (7000L Water Tank)
2007 Hino Ranger Pro Support Truck, (5500L Water Tank),
1989 Isuzu 4×4 Water Trucks, (5800L)
2009 Isuzu FXR1000 HIAB Truck, (Altas Copco Air Compressor 850/350)
2007 Hino 5 Ton Tipper Truck, (Site clean-up)
2008 Elgi 1100/350 compressor unit mounted on 2010 Scania 8×8,
2007 Hino Ranger with 2009 Bobcat Excavator 3 Ton,
2008 Toyota Hilux SR5 4×4 utility,
2017 Toyota Hilux SR5 4×4 utility,
2010 S70 Bobcat loader,
2008 Boxer mini excavators, (x 2)
2012 Water Tank Trailer 2200L
Benefits of Earth Rod Installation from Baines Drilling
Additional Services from Baines Drilling
To complement our earth stake rod drilling and testing services, Baines Drilling also specialises in the following areas.
Drilling
With over 40+ years' experience, Baines Drilling provides drilling services to Perth clients, no matter the ground conditions. With routinely maintained specialty equipment, our drilling contractors provide a prompt and reliable service which meets all Australian and industry standards. We can drill holes and install earth rods in sand, clay, rock and granite.
Drilling
Water Boring
Water bores are a great long-term investment for all property owners, whether commercial or residential, saving you money on future water bills. Speak to the friendly Baines Drilling team today to organise professional drilling, installation and testing of your new water bore system.
Water Boring
Lightning Protection
Professional earthing rod installation will assist in protecting your property, assets, machinery and occupants from power surges and lightning. Contact Baines Drilling today for professional earth rod testing carried out by our specialised in-house electricians.
Lightning Protection
Get in touch for a quote!